The Reykjavik Assignment
The final book of the critically-acclaimed thriller trilogy featuring United Nations covert negotiator Yael Azoulay
---
Buy The Reykjavik Assignment: A Yael Azoulay Novel (Yael Azoulay Series) on Amazon.com ✓ FREE SHIPPING on qualified orders
"Imaginative take on geopolitics… the action never flags."The Times and Sunday Times, 'Crime Club Pick of the Month'
Yael Azoulay, covert negotiator for the UN Secretary General, has made a powerful enemy in Clarence Clairborne, head of Washington, DC lobbying and security firm the Prometheus Group. He's fixated on revenge – and Yael knows it. She's definitely being followed, but Clairborne's operatives are not the only ones tracking her every move. Unexpected visitors from her past have arrived, determined to make her confront the secrets she's been hiding.
Driven by exceptional plotting and electrifying prose, The Reykjavik Assignment follows Yael as she fights the pull of her old life while brokering the triumph of her career: a summit in Reykjavik, Iceland, between the United States and Iran. But when events in Reykjavik take a terrifying turn, the only thing that Yael cares about is preventing a desperate man from taking desperate measures to avenge his own past.
Other books in the Yael Azoulay trilogy
The Geneva Option
---
Yael Azoulay does the United Nations' dirty work by cutting deals that most of us never hear about. Equally at home in the caves of Afghanistan, the slums of Gaza, or corporate boardrooms all across the world, Yael believes the ends justify the means… until she's pushed way beyond her breaking point.
Spanning New York City, Africa and Switzerland, The Geneva Option is the first in a series of gripping and intelligent conspiracy thrillers.
---
The Washington Stratagem
---
Yael Azoulay, the UN covert negotiator, had to kill or be killed when she went rogue in Geneva. Now back in New York, she is tasked with meeting the man at the dark heart of the American military industrial complex. Yael soon discovers a chilling conspiracy that reaches to Iran… and a dark secret from her past.
"Who knew the United Nations could be so exciting? Murder, intrigue and a beguiling protagonist make The Washington Stratagem a gripping and enticing read."Guardian US, 'The books we most enjoyed in 2014'
The Budapest Protocol
---
Inspired by declassified US intelligence reports. A sinister conspiracy thriller based on 1944 US intelligence documents which reveal how Nazi leaders planned a Fourth Reich – not a military empire, but an economic one.
"If this novel was a handbag it would be a black Chanel – beautifully made, perfect for every occasion and just a little old-fashioned (in a good way)… LeBor is a distinguished writer of nonfiction and his first novel shows that he's just as good at making it up."Kate Saunders, The Times
---
The Istanbul Exchange
---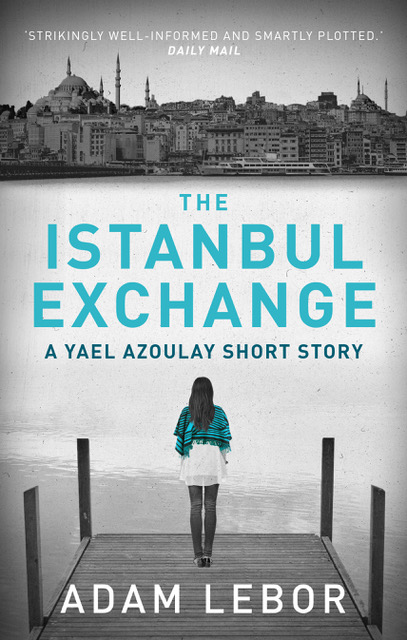 Meet Yael Azoulay, the brilliant and beautiful behind-the-scenes negotiator for the United Nations. Tasked with persuading an Afghan warlord – and friend of hers – to surrender to the Americans, she is quickly pulled into into a dangerous world of secret rendition, torture and arms trafficking to Syrian rebels. The high-stakes game soon turns deadly as Yael finds herself up against a shadowy agency of the US government. Everything depends on her next move…
---